Will Greenpeace Change Its Mind On Bitcoin Now? New Report
The Greenpeace smear campaign against Bitcoin has gained momentum again in recent days. Greenpeace published an article in which the environmental organization called on major financial services companies like Fidelity to recognize Bitcoin's climate impact and "take responsibility for the problem."
Furthermore, the Bitcoin Skull commissioned by Greenpeace caused a stir as part of the "Change the Code, Not the Climate" initiative. However, Greenpeace's action backfired when climate activist and artist Von Wong expressed that he himself was no longer convinced by the Greenpeace campaign.
"I made Skull believing that Bitcoin mining was a simple black and white matter. I've spent my entire career trying to reduce real-world physical waste, and PoW intuitively felt like waste. Of course, I was wrong. Few things in the world are black and white. Change me," von Wong he wrote on Twitter after becoming involved with the Bitcoin community.
Is Greenpeace going to rethink Bitcoin?
If Greenpeace has integrity and is not driven by its dubious donors, the organization would have to cancel its campaign and even endorse Bitcoin.
Bitcoin and climate activist Daniel Batten has released new research showing that BTC's main energy source is hydroelectric power, accounting for 23% of its total energy. Fossil fuel sources have declined a total of 6.2% annually since January 2020.
"Surprising fact: Bitcoin mining, the only major global industry whose main source of energy is not a fossil fuel. The main energy source for the global grid is coal (36.7%)," Batten wrote in a tweet. With his research, Batten has refuted a claim often posited by the Cambridge Center for Alternative Finance (CCAF) that coal is the main energy source used by the BTC network.
Unlike the CCAF, Batten included off-network mining in its investigation, providing a complete picture of the Bitcoin network. The most important energy source is hydroelectric (23%), followed by coal, gas and wind.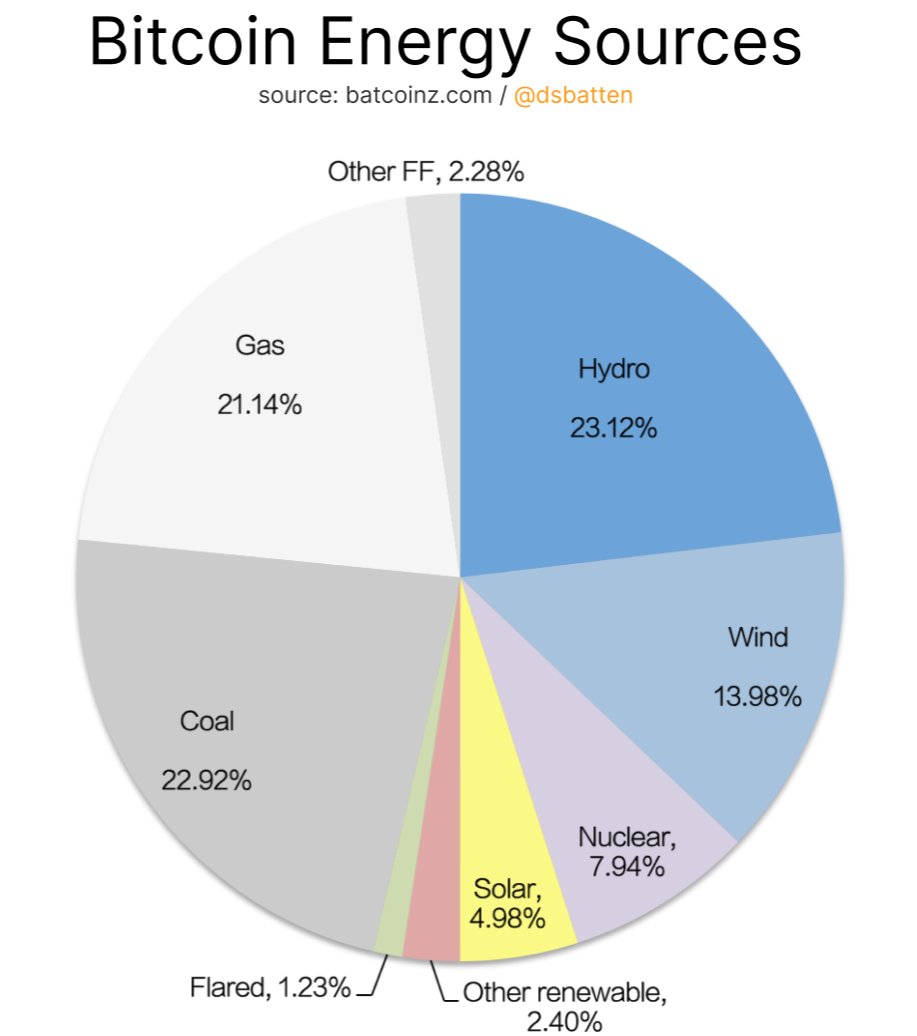 Batten found that 15.8% of its off-grid generated electricity comes from hydropower, but more than half of sustainable off-grid mining is powered by hydropower. Sustainable mining companies like OceanFalls, Blockfusion, Hut8, Iris, Sato, Terawulf, Stater/Lake Parime, Gridshare and HPG are examples of companies that are 100% or predominantly hydroelectric powered, according to the Bitcoin activist.
The second largest source of sustainable energy is wind energy, which now accounts for nearly 14% of total Bitcoin mining electricity. "Companies like Marathon, with 14 EH hashrate, whose heavy component is behind-the-meter wind farms, contribute to this strong showing," said Batten.
In addition, the high 25% of wind power on the Texas Electrical Reliability Board (ERCOT) grid is another factor in wind power's strong showing, he said. On the topic of coal and mining, Batten found that Bitcoin, like eVs, is a fully electrified technology with zero direct emissions.
Emissions come from the use of electricity, part of which is generated with fossil fuels. In comparison, Bitcoin mining actually performs better. Assuming that electric vehicles are distributed proportionally around the world and use the global grid mix, one would have to assume that coal is the top source at 36.7%, followed by gas at 23.5%.
Compared to eVs, Bitcoin mining uses a similar proportion of gas (21.14%) but significantly less use of coal as an energy source (22.92%): 38% less than eVs.
Looking ahead, Batten explained that the BEEST model suggests that the sustainable mix of the BTC network is currently growing at 6.2% per year. If this growth continues, the relative shares of coal, gas and other fossil fuel sources will continue to decline.
Furthermore, Bitcoin can help shape the energy transition because mining systems can be switched on and off very flexibly, acting as spontaneous consumers of surplus production. They could therefore be used not only to better manage the utilization of power grids, but also to make renewable energy more quickly profitable through BTC-induced cross-financing.
In a recent space on Twitter, Batten observed about Greenpeace:
It will come as a big surprise that not only did the action work, but there is also a counterattack. They are now subject to the same scrutiny they normally hold people accountable for. So this will be new for them.
At press time, BTC price was at $28,030.
Featured Image from iStock, chart from TradingView.com
---
---