Transaction Activity At 2-Year High
Data shows that Bitcoin's average transaction count has risen to the highest level since April 2021, indicating that the asset's price may be on the rise.
Bitcoin transactions are happening at an average rate of 309,500 per day
According to Glassnode's latest weekly report, the transaction count is significantly above the average for the year. The relevant indicator here is the "transaction count", which, as its name suggests, measures daily transfers on the Bitcoin blockchain.
When the value of this metric is high, it means that a lot of transactions are taking place on the BTC network at the moment. Such a trend suggests that traders are active in the market these days.
On the other hand, low values ​​suggest that the network is not currently experiencing much activity. This trend could indicate that overall interest in cryptocurrency is low among investors currently.
Now, here's a chart that shows the trend in Bitcoin transaction counts, as well as their 30-day and 365-day simple moving averages (SMAs), over the last few years: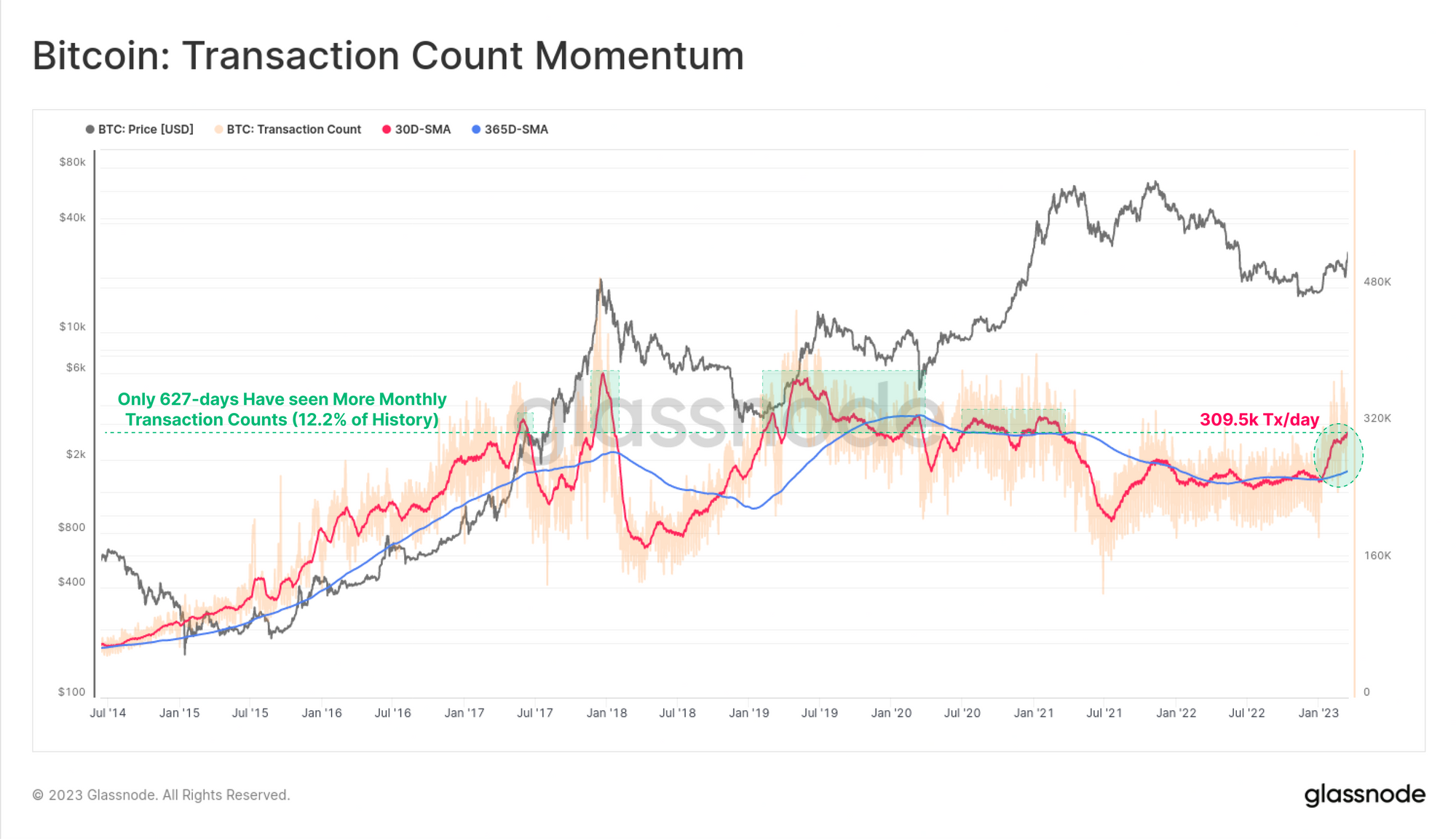 The value of the metric seems to have been elevated in recent days | Source: Glassnode's The Week Onchain - Week 12, 2023
The graph above shows that Bitcoin's transaction count has seen some highs during the last few months. This trend is not surprising as rallies like the one the asset is now seeing tend to be exciting for investors. Therefore, they are attracted to the blockchain during these times.
Interestingly, the indicator's recent levels are higher than what was seen during the second half of 2021 bull run. The metric's 30-day SMA value has now risen to 309,500 trades per day, the metric's highest value since then. April 2021, when the 2021 H1 rally was at its peak.
There have only been 627 days in the asset's entire lifespan (equal to 12.2% of BTC's history) with a higher 30-day average daily transaction count.
Generally, high transaction count values ​​can imply not only old users are showing high activity, but also that new users are joining the network. As the value of the indicator has been quite significant recently, it is a likely sign that cryptocurrency adoption has increased.
Prolonged high transaction counts can provide a sustainable foundation for long-term bullish momentum, as new users joining and transacting on-chain is what keeps the Bitcoin economy going.
From the graph, it is evident that the 2017 bull run, the 2019 April rally, and the 2021 bull run all had fairly high monthly average values ​​of the indicator in their withdrawals, showing that this theory works in practice.
BTC price
At the time of writing, Bitcoin is trading around $27,800, up 14% over the last week.
Looks like BTC has slipped below $28,000 | Source: BTCUSD on TradingView
Featured Image of Traxer from Unsplash.com, Charts from TradingView.com, Glassnode.com
---
---