Bitcoin "Buy The Dip" Mentality Fades, Is Now Time To Buy?
The data shows that Bitcoin investors are not exhibiting the "buy the dip" mentality, despite the cryptocurrency's price recording recent success.
Bitcoin market is not showing any interest in buying this dip
According to data from on-chain analytics firm Holythe type of FUD that is present in the Bitcoin market at the moment has historically provided good opportunities for the asset.
The indicator of interest here is "social volume," which measures the total amount of social media text documents that are talking about a particular topic or term (like the name of a cryptocurrency).
The text docs here are a collection of text-based posts that Santiment has amassed from some popular social media sites like Reddit, Twitter, and Telegram.
To know if one of these posts is talking about a subject or not, the metric checks the term and checks if there is at least one mention present in the referred document.
The one-mention condition means that posts that contain the term multiple times still carry the same weight as one that only mentions it once. The reasoning behind this restriction is that it provides a more accurate representation of the market trend, as some users cannot easily distort the figure.
Now, here's a graph that shows how much of the total cryptocurrency social volume (i.e., industry-related discussions) is being contributed by conversations related to buying the dip: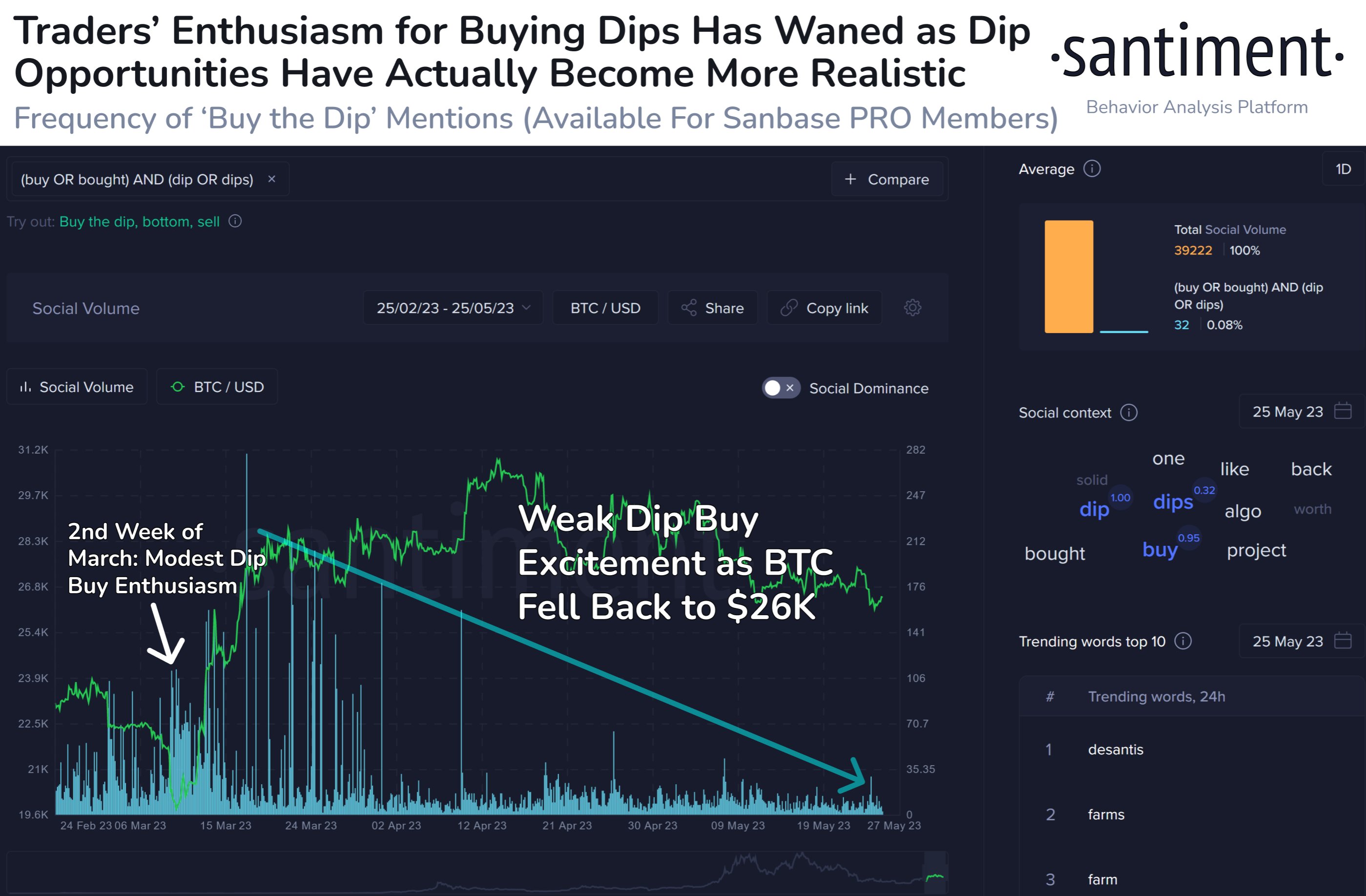 The value of the metric seems to have declined in recent weeks | Source: Santiment on Twitter
As displayed in the chart above, social volume for buy-related terms has recently dropped despite the Bitcoin price seeing a dip below the $27,000 level.
In March, when the asset dropped below the $20,000 level, the indicator value had some spikes, but they were still at moderate levels. When price recovered and saw a sharp rally, however, that's when the metric started to skyrocket.
This would suggest that there was little enthusiasm in the market when the actual bottom formation was taking place, while bumps in the rally were being touted as the time to buy.
A large amount of spikes also occurred when that part of the rally was above the $28,000 level, meaning that the price went against the crowd's mindset in this case.
Historically, Bitcoin has generally become more likely to move in the direction most don't expect, but most predict the other direction.
As the social volume of these dip-related terms has remained low during the recent price decline, it appears that investors are scared to buy at current levels.
"We are seeing the common paradox of traders buying small short-term crypto price dips but being afraid to buy longer-term larger ones," notes Santiment. "Historically, this type of FUD has been good for capitalizing."
BTC price
At the time of writing, Bitcoin is trading around $26,400, down 1% over the past week.
Looks like BTC continues to be stuck in the low $26,000 levels | Source: BTCUSD on TradingView
Featured Image from iStock.com, Charts from TradingView.com, Santiment.net
---
---