Bitcoin Breaks $30,000 As Whales Show Outflow Activity
Bitcoin has crossed the $30,000 mark as on-chain data shows that whales have been making large outflows during the previous day.
Bitcoin whales made big exchange outflows today
According to data from on-chain analytics firm Holy, 11 major BTC outflows were made on exchanges today. The relevant indicator here is the "exchange flow balance", which measures the net amount of Bitcoin entering or leaving the wallets of all centralized exchanges.
When the value of this metric is positive, it means that a net number of coins are currently being transferred to these platforms. Since one of the main reasons investors may use exchanges is for selling purposes, this type of trend can have bearish price implications.
On the other hand, negative indicator values ​​suggest that holders are currently withdrawing some amount of cryptocurrency from exchanges. Such a trend could be a sign of accumulation by investors.
Now, here's a graph that shows the trend in Bitcoin's exchange flow balance over the past day: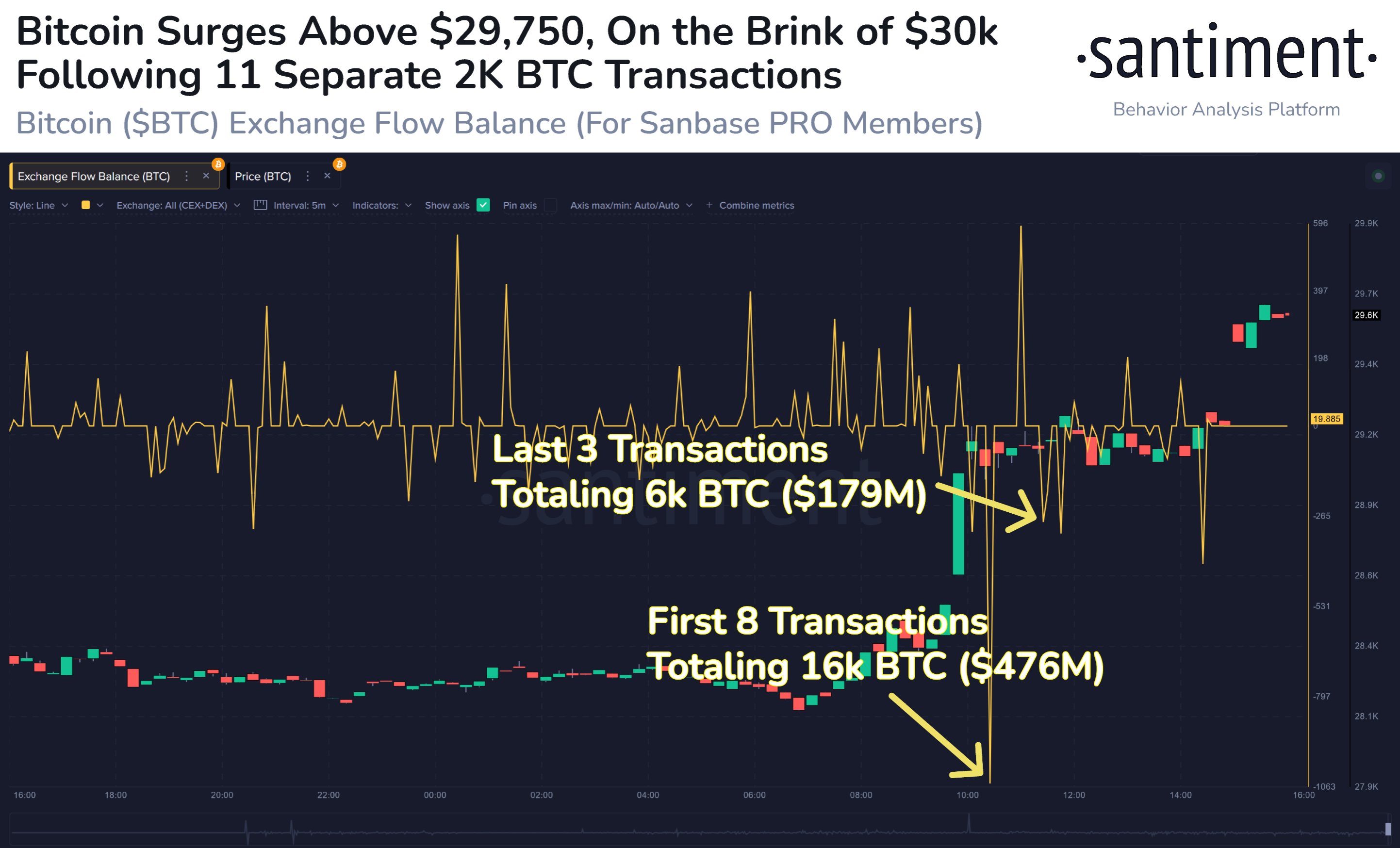 Looks like the metric has seen some highly negative values recently | Source: Santiment on Twitter
As shown in the chart above, Bitcoin's exchange flow balance saw large negative spikes during the previous day. The biggest of these spikes came from eight transactions of 2,000 BTC each that occurred simultaneously.
Another three simultaneous transfers of 2,000 BTC each took place an hour after this batch of eight transactions. This means that, in total, 22,000 BTC (worth around $661 million currently) left the exchanges with these outflows.
These extremely large sudden outflows can be a sign of heavy buying by the whales. Furthermore, the timing could suggest that this buying pressure could be what is driving the strong bullish movement the cryptocurrency saw today, in which it has now crossed the $30,000 mark for the first time since June 2022.
Bitcoin trading volume data also shows elevated levels, which may suggest that this price movement may be sustainable for the time being.
The indicator has sharply surged during the past day | Source: Santiment
The graph above also displays data on "active addresses", a metric that measures the daily amount of unique addresses participating in some transaction activity on the Bitcoin blockchain.
It appears that this metric has not shown any significant spikes during the previous day despite the sharp rise in price. This could be further evidence that the rise in price is driven by the large moves that a small number of whales have made today.
High average investor participation has historically tracked long-term price movements, so while trading volume may be enough to fuel the surge for now, it's uncertain whether the move can continue if active addresses remain low.
BTC price
At the time of writing, Bitcoin is trading around $30,000, up 6% over the last week.
BTC has shot up over the last few hours | Source: BTCUSD on TradingView
Featured Image by Thomas Lipke at Unsplash.com, Charts by TradingView.com, Santiment.net
---
---