Bitcoin And Crypto Face These Key Events In The Week Ahead
The Bitcoin and crypto market is facing a "bull vacuum" in the short term. In the wake of significantly lower than expected inflation numbers (CPI and PPI) and the long-awaited pivot of the Federal Reserve in the US, Bitcoin price managed to continue its upward trend of the last few weeks and reached a new high. yearly high of $30,968 last Friday.
After the last few weeks have always been full of important macro data, there are virtually no important data points for the next two weeks. Only on May 3rd will this change, when the next Federal Open Market Committee (FOMC) of the United States Federal Reserve is scheduled.
Thus, there is a bullish vacuum until early May, in which it seems likely that the entire crypto market and Bitcoin will continue their recovery. Still, there are some events that are likely to influence the market this week as well. As we do every Monday, we look at the most important dates.
This will be crucial for Bitcoin and Cryptocurrencies
On Tuesday, April 18, all eyes will turn to Washington DC as US Securities and Exchange Commission (SEC) Chairman Gary Gensler will have to justify his regulation of the US bitcoin and crypto industry. As Bitcoinist reported, Patrick McHenry, chairman of the Financial Services Committee, scheduled the hearing.
McHenry wants to examine Gensler's actions against the US crypto industry. In an interview, he said:
This will be our first Securities and Exchange Commission supervisory hearing. This will be about your regulation and your approach to digital assets. It will have great general oversight over the SEC. In terms of policy, [this will be] a serious approach in terms of establishing […] a regulatory sphere for digital assets.
Gensler will likely face severe scrutiny. French Hill (Republican) and Warren Davidson (Republican) are two cryptocurrency supporters who chair the Digital Assets Subcommittee. Davidson is one of Gensler's biggest critics and recently posted a tweet calling for "Fire Gary" to become a bipartisan movement.
On Thursday, April 20 at 8:30 AM ET, the weekly data on initial US jobless claims will be released. Last week's numbers were again well above expectations. This week, 240,000 are projected, compared to 239,000 last week.
The slow cooling of the US job market has already manifested itself with a much weaker-than-expected JOLTS jobs report, as well as weak NFP job market data in recent weeks. If the latest numbers on initial jobless claims confirm this trend, it would be another warning sign of a US recession.
Should the job market stabilize again and unemployment claims stop rising for the time being, that would be positive for the cryptocurrency market. The looming recession could at least be delayed a bit or could become less severe due to a still resilient job market.
Third, investors should also keep an eye on the dollar index (DXY). DXY is at a critical point and could provide support for an uptrend in Bitcoin and cryptocurrencies if it continues to decline. Analyst Scott Melker recently shared the chart below and stated:
2 months later, the right shoulder is formed and the neckline is being tested. It's still just an idea, but if that black line breaks, it will confirm and we'll see sustained dollar weakness.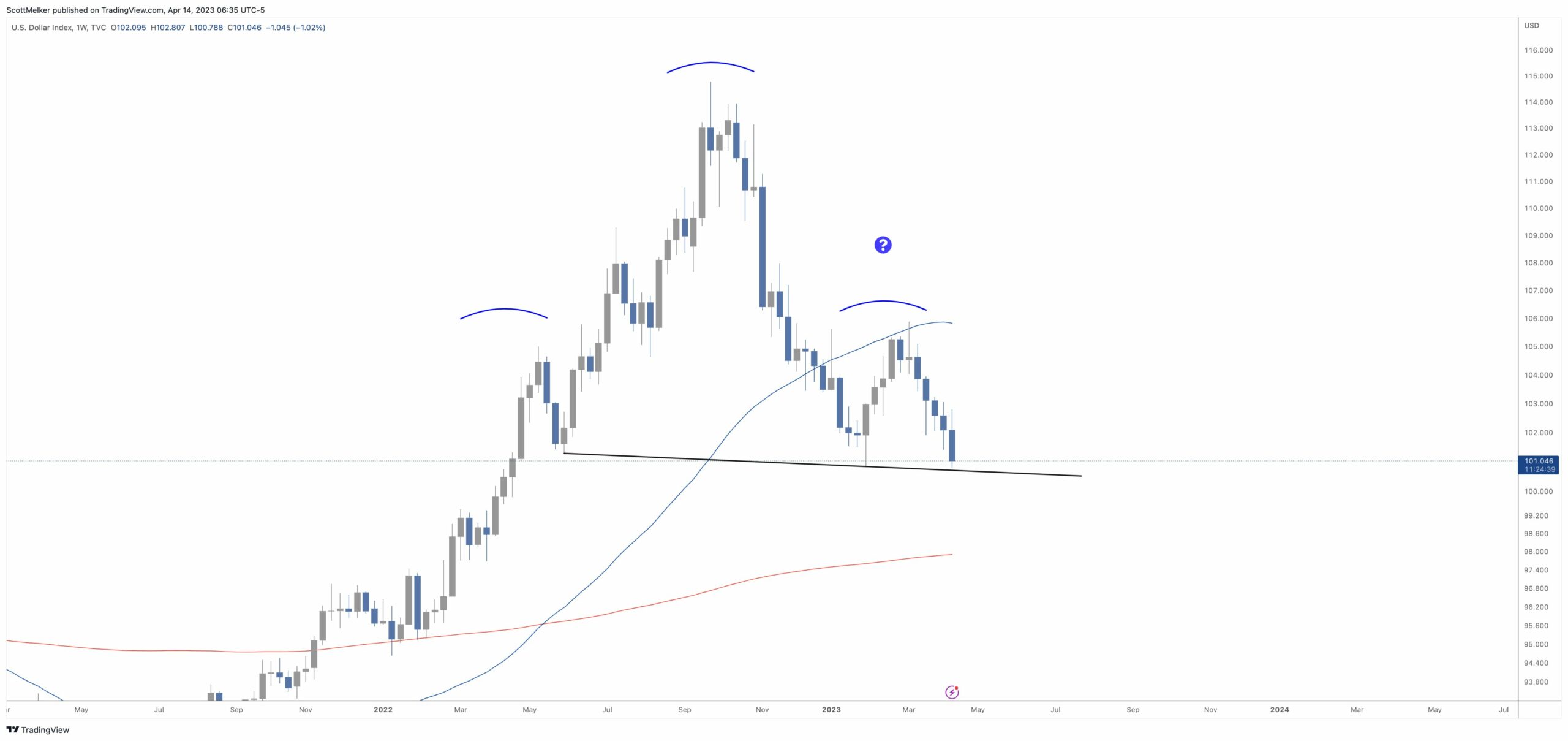 At press time, Bitcoin price was at $29,899.
Featured Image from iStock, chart from TradingView.com
---
---